Strange and Unusual STORIES
by Dr. Steven White
President of PWBC
The New Five Minute Sermon-ette!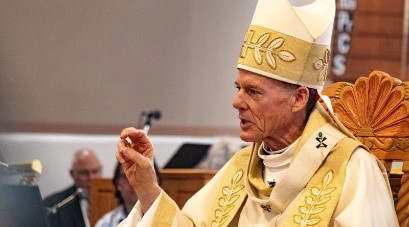 Since the Covid-19 pandemic, the Archbishop of the Roman Catholic Archdiocese of Santa Fe, California, John Wester, issued an order that priests' little sermons (called 'homilies') could not be longer than 5 minutes.  Well, some of the priests went over the 5-minute rule, so what happened?
Archdiocesan vicar general, Father Glenn Jones, issued the following memo: "We've received reports of some homilies going well over the 5-minute limit set by the Archbishop.  This not only increases exposure time to others, but increases the discomfiture to many congregants, to the point of some not attending Mass because of it.  If such long homilies continue, the Archbishop will consider severer actions for subject clergy, up to and including possible suspension of the faculty to preach."
This may be what the RC Church wants, but what has God said in the Bible about preaching?
2 Tim. 4:2 Preach the word; be instant in season, out of season; reprove, rebuke, exhort with all longsuffering and doctrine.
That can't be done in 3-5 minutes.  Some churches will take 30-40 minutes for singing and 10 minutes for a sermon-ette.  But we'll take 10 minutes for singing and 30-40 minutes for preaching!  WHY?  Because 'sermon-ettes' will only produce 'christian-ettes', rather than strong Christians!
O Christian, RECEIVE from God the Preaching of the Word, both in season and out of season!  Receive from God a reproof, a rebuke; receive from God an exhortation with all longsuffering and doctrine; regardless of the length of the sermon.  Amen!
God has enabled PWBC to offer courses that are available online. This is a good opportunity for those who want to earn their Bible training but do not have the ability to attend full-time at Bible College.
Follow PWBC on three different social media platforms such as Facebook, Instagram, and Twitter. You are able to see the latest events that are happening in Bible College.
Be Part of Training Men and Women
You can be a part of opening a door of opportunity to those who would be willing to serve God in fulltime service or helping the college to train future leaders for the Lord.